Mechanical Clocks for Antique Cars And Vintage Aircraft
As part of my services, I also provide restoration and repair to those Mechanical Clocks that were originally installed in Antique Cars and Vintage Aircraft. Clocks for cars were popularized in the early 1900's along with the advent of the automobile. With some modifications, these same mechanical clocks made their way into aircraft, boats and tanks during WWII, in the 1940's. See below more information on these historical timepieces.
I limit my service to these precision, 8-day, hand-wound mechanical clocks. As a service to those of you with electrical-mechanical or electric car and aircraft clocks, links to repairers are listed below for your reference. These folks will even help you convert your electrical clock to quartz. Note, however, these are listed as a courtesy and are not intended to endorse the quality or workmanship of their repairs.
All car and aircraft clocks serviced by Olde Tymes are for collectible purposes only and do not come with any required certifications such as may be required by the FAA, DOT and/or DMV. That said, full restorations come with the Olde Tymes "Full One Year Parts and Labor Warranty".
1More information on these clocks...
The advent of the automobile in the early 1900's brought with it the urge to "accessorize". One of the more popular accessories was the clock. Their size, placement and duration lent themselves to be labelled "clocks", however, for the most part these were really oversize pocket watches with an 8-day movement made possible by a dual set of mainsprings. Most of the pocket watch manufacturers of the day participated in the manufacture of car clocks although the dominant players were Waltham, Elgin and New Haven.
One of the more interesting aspects of these types of clocks was their placement inside the cars. In addition to being in or on the dashboard, they could be found attached to the steering wheel, rear view mirror, glove compartment and even the sun visor.
Waltham's designers made good use of this line of clocks. The most famous of these was the Waltham 37 which could be found in desk clocks, table clocks, mantel clocks and an extensive line of travel clocks which were usually housed in leather-covered cases.
You can entrust your restoration and repairs to me!
1Note that credit for this information needs to be given to Mel Kaye, FNAWCC and his April 2002 NAWCC Bulletin article, "Those Wonderful Automobile Clocks".
My new old stock inventory of rare car clock stems.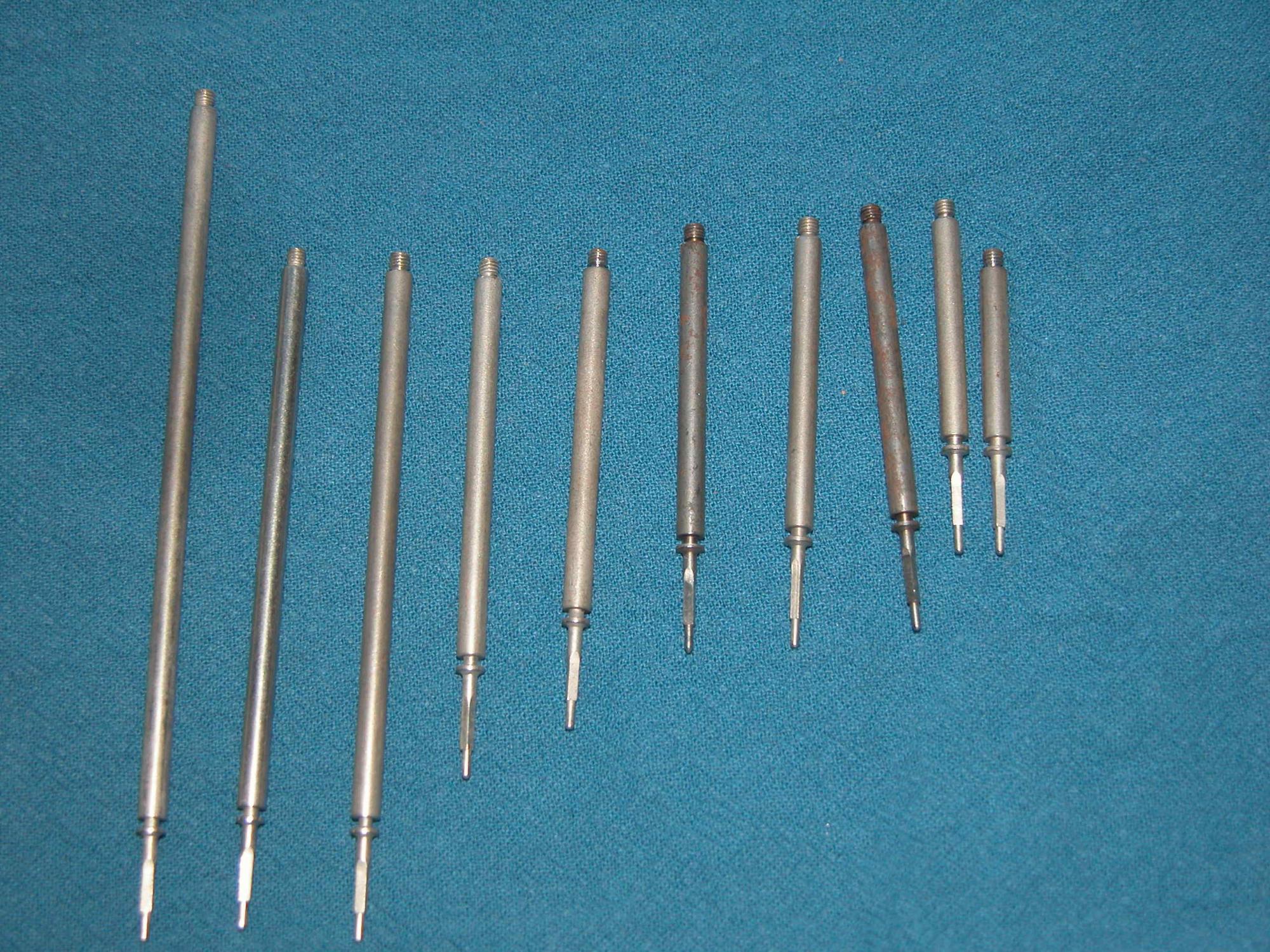 Two mechanical car clocks juxtaposed against an American p

ocket watch.
On the left is an

1915

Waltham 8 day car clock with its long stem

.

In the middle is a 1918 8 day Waltham car clock with its short stem.

On the right is a 1911

Hamilton 16s pocket watch.
Car Clocks can be

Displayed

!
If you inherited a

Car

Clock but not the c

ar...well

then... Display it! These 8 Day highly crafted timepieces add a touch of class to any room and are

such a handy

time reference when placed on your nearby end table!
Vintage Aircraft Clocks can be Displayed as well! If you don't happen to have the airplane - you can still Display these fine historical timepieces. He

r

e is one fitted with an airplane motiff display.
Example of a 37s Waltham Car Clock factory modified into a "travel clock".