Micro-Machining To Your Specifications
T

he equipment, skill set and raw materials necessary for horological machining lends themselves nicely to the manufacture of micro parts and mechanical instrument repair. If you find yourself with such a need or have a one-off part needed in metal or even plastic (Delrin plastic is a very nice material for prototypes), contact me for an estimate.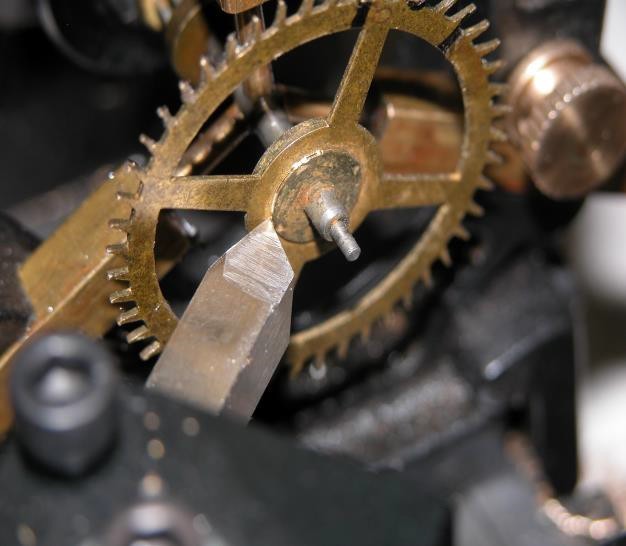 My Myford S7 bench lathe with its 7"

swing and high accuracy is ideal for the manufacture of

larger

precision parts and tools.
My vintage Levin watchmakers lathe is a

high precision machine tool. Excellent for repivoting arbors to replace broken or worn pivots but also for boring precise, micro holes and many other similar tasks.
Mainspring barrel ready to receive new

teeth was machined on my Sherline precision micro-mill.
My shop has the most modern micro machine

tools made today from Sherline. Here is my micro

milling

machine and lathe that can accurately produce to .0005"and

I'm proud to say

these machines are made in the U.S.A.
I grind all my own

cutting tools and can grind

a special shape for you. Here is a right hand facing

lathe

cutting tool setup to remove a train wheel from its collet

a

nd arbor.
My CNC Rotary Table is excellent for indexing

wheels but also for complex machining setups.